The New Index Braille Box Embosser
High production embossing at 300 Characters per second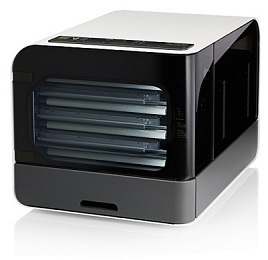 In a braille production environment where speed is essential, you can be assured the Braille Box from Index is a perfect fit! Embossing at 300CPS this double-sided braille embosser uses large, cut- sheet paper to emboss magazine format automatically taking the busy work out of braille book production.
Braille Box V4 Video
The stylish case design not only gives the Braille Box a modern look but was also designed with noise canceling material making it the quietest braille production embosser around.
This modern solution for braille production is flexible and works great in any environment! With an embedded web interface this embosser works great for users who prefer to navigate the printer over the internet and its easy new user interface also makes it great for users who prefer to control the embosser at the machine itself.
Technical Highlights
300 characters per second - fastest production embosser in its class
High capacity production - holds 400 sheets at a time
Uses large cut-sheet paper - up to 17"x11" in size
Wireless connectivity - onboard wifi, Bluetooth and AirPrint!
Quality double - sided Braille - Now with high resoltion tactile graphics
Automatic magazine format embossing - seamless book printing
Sound absorbing case makes it the quietest production embosser
Easily Networked and quick installation via of USB and/or Ethernet cables
Instant Brailler Depot Technical Support available during regular business hours