Index Fanfold-D Production Braille Embosser
High production embossing at 330 Characters per second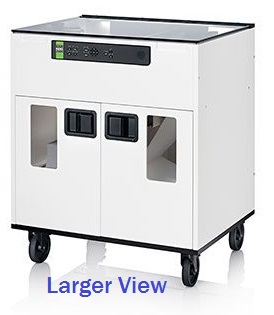 In a Braille production environment where speed is essential, you can be assured that the Fanfold-D from Index is a perfect fit! Embossing at 330 CPS, this double-sided tractor fed braille embosser is specially designed for high Braille production.
Fanfold-D V5 Video
The principle construction of the FanFold-D is simple. It uses the embossing and electronic modules of the BrailleBox, the feeding mechanism of Basic-D, and the noise reduction technology of Index Acoustic Hoods. The combination of these simple principles leads to an excellent result, the best traditional braille printer ever produced.
The FanFold-D is delivered on a pallet, ready to be used directly.
Easy on-site maintenance
Maintaining your FanFold-D on site can be done without a trained technician. This major step is possible because:
No mechanical adjustments are required
No lubrication of moving parts. This eliminates the problem of dust and reduces the need for cleaning
The complete mechanics for printing module is accessible after opening the glass lid
Only a few modules: embossing module with driver electronic board, electronic module with power supply, CPU board, the user interface and a few sensors
Sensors and firmware upgrades are shown by light-up text
Web interface to monitor embosser status, etc.
Remote support from Index factory
Exploded view drawings combined with web shop make spare parts accessible for everyone
Technical Highlights
330 characters/second - fastest production braille embosser at this price
Reliable tractor-fed paper for high capacity embossing
Quality double-sided Braille with high-resolution tactile graphics!
Wireless connectivity - onboard wifi, Bluetooth and AirPrint!
Automatic magazine format embossing - seamless book printing
Sound absorbing case makes it the quiet in office and school environments
Easily Networked and quick installation via of USB and/or Ethernet cables
Instant Brailler Depot Technical Support available during regular business hours