The Snow Handheld Video Magnifier - $349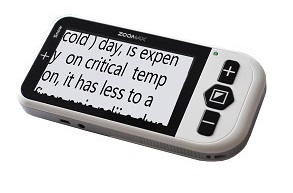 The Snow is the perfect handheld video magnifier offering a lightweight compact design to provide a comfortable reading experience anywhere. Offering the best camera and most advanced imaging technology; the Snow will provide a crisp and clear image at any magnification level and even with fast movements!
Place the magnifier directly on a flat reading surface or hold at a comfortable distance, either way you can be assured to have a crisp clear image any way you prefer to use it. The Snow also offers freeze-frame functionality so you can take a snapshot of an object and then return the device to a comfortable reading position for greater exploration.
Technical Highlights and Benifits
4.3" color TFT screen
2 - 16x magnifications
10 modes (full color; grey color; white on black; black on white; blue on white; yellow on black; black on yellow; blue on yellow; yellow on blue)
Connect to TV: Support PAL/NTSC
Battery: 3.5 hours Li battery; replaceable & rechargeable